BRANDYSH
Vienna
Tel.: +436503900175
info@brandysh.com
www.brandysh.com
Founded in 2003, this band exploded on the scene in March 03 in Vienna. In short period of time, Brandysh had half a dozen gigs organized around Vienna including 2xAERA, Hochstrahlbrunnen (open air), Donauinselfest (open air) and Twin Horn MC festival in Pula, Croatia (open air) where they opened the festival on day 2 before an audience of 4,000-5,000 heavily drunk but satisfied motorcycle freaks... The band also reached the Emergenza Finals in July 2004 (@ Arena Wien) plus was a co-winner of Soundrevolution04 in Brunn in September!
Brandysh define their music as new rock with bunch of bad-ass, melodic pop melodic elements, combined with heavy drum and bass rhythms and surprising breaks supported by sizzling keyboard sounds..
Attending a Brandysh live performance means definitely one thing: surprizes, as this band is not afraid to break some ground rules in order to upstage any expectation you might have had of it prior to their live gig.: inconvenient cover songs, sexually orientated stunts, communication with the audience—you name it.

Jersey Filippi (vox)
Mark F. Rampa (guit)
Mikki Juggy (keys)
Sher-A-Bone (bass)
The Kiddo(drums)

CHECK OUT BRANDYSH.COM !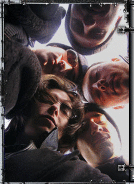 comments
hier kannst du einen kommentar zu dieser seite abgeben
read comments
lese was andere zu diese seite meinen (z.z. 0 kommentare)